A large-scale moving always requires special planning, effort, and skill to carry out all its involved operations, smoothly and efficiently. During careless and unplanned handling of a moving job, there are more chances that you lose track and cause serious damage to your belongings. So, it is very essential to hire a professional Two Men & Truck service from an experienced and reliable company like CBD Movers™ Brisbane who has gained all needful skills and advanced facilities to ensure proper handling and safe reach of all your possessions to the destination, well on time.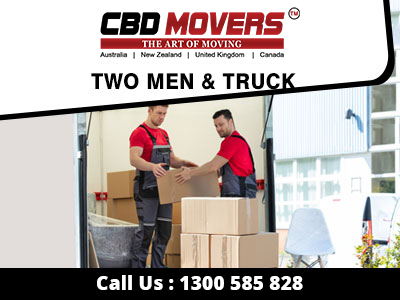 CBD Movers Brisbane is a full-service moving company with the total expertise to handle entire all kinds of medium or large-scale moves from beginning to finish. Our Two Men & Truck Service is fully equipped to take any moving challenge and we accordingly plan everything in advance to tackle all your big residential or commercial removal and moving jobs, quickly and efficiently.
Moving Big House: While deciding to move to a large, 2-story home or an apartment, most people tend to underestimate the true size and scale of the move. Our Two Men & Truck service helps you pack and move all your possessions carefully, in an organized manner.
Commercial Moves: The commercial goods mostly contain expensive and valuable items that may require experienced and skilled movers and a modern fleet of big trucks. Many commercial establishments provide their customers a limited and fixed-time schedule. Therefore, to keep a business up and running such offices should be moved immediately as soon as possible. At CBD Movers™ Brisbane, we make sure that all your official belongings and equipment are transported safely within the stipulated time. So, don't wait much. Pick your phone and make a call at 1300 585 828 to know more about our Two Men & Truck services or reach us!