Relocating interstate has its own share of problems starting with finding proper transportation to relocate your entire stuff all the way across the border. When you are relocating to another place far off, finding suitable transportation which guarantees the safety of your things will be your top priority. At the same time, the cost of relocating to another state will also be another factor that could be constantly warning at the back of your mind threatening to empty your purses. The way to deal with the move is to hire interstate removalists in Brisbane who can perform the removal at a budget rate.
CBD Movers: Hire Removalists in Brisbane to Move Interstate
We, the CBD Movers Brisbane, bring you the perfect solution for all such relocation problems. We offer cost-effective interstate removals services that
will come under budget and won't strip you of your savings. We offer tailor-made house removals services that rightly fit into all your relocation problems.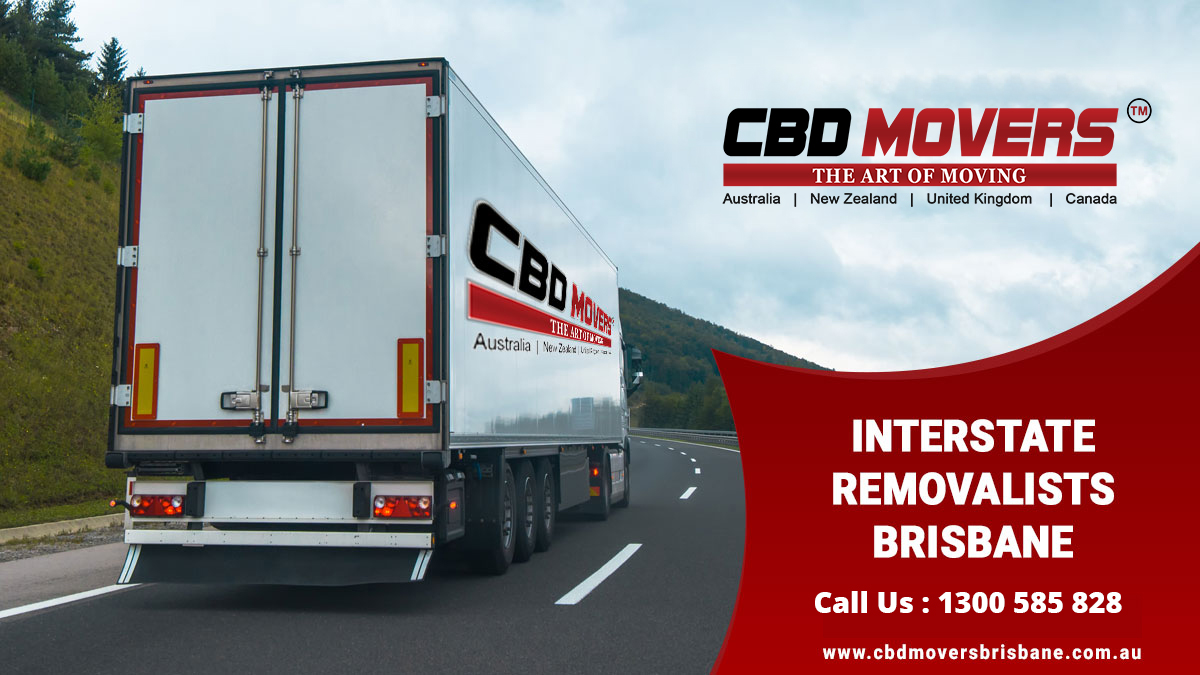 When you are moving interstate, you may need a temporary place to store all your stuff before you settle on a permanent residence and during such times, our wide network of CBD Movers Brisbane, with its presence all over Australia, can help you with storing your belongings in a secure storage facility with pickup and delivery options.
Since we are talking about the long-distance move, more often, we need a storage facility to keep our stuff temporarily. So finding an interstate removals company that has storage facilities options in their services is a better option than searching for a separate storage facility that will, in the end, cost you more than what your budget would allow. We have the interstate removalists team and processes to ensure your move is both smooth cost-effective. All our interstate removals include a careful compilation of detailed packing lists to keep track of the items we are relocating. All house or office items transported are numbered and listed to ensure every object is accounted for.
Prices for moving are generally based on the amount (volume) of goods you have to move. We also take into consideration the access to your pick up and delivery points, what your packing requirements are, and if you have any items which require special handling. Once we have these details we are able to provide you with a written price quote.
Moving to a new state doesn't have to be complicated. At CBD Movers™, our team of moving professionals is dedicated to helping you get from point A to point B smoothly so that you can enjoy your new life interstate with ease.
Brisbane's Premier Interstate Movers
If you want to relocate overnight all of a sudden and are at loss about where to start and how to go about it, do not worry. Give us a call and our interstate removalists Brisbane will come to your location as soon as possible and help you with all the aspects of your home or office relocation. Not only do we know about the relocation of things, as we have been in this industry for over a decade, we know an extra thing or two about relocation in general. So we can help you out with our suggestions and feedback for a faster relocation.
We can help you with any kind of relocation: interstate, office or home; weekend or night. We do our best to accommodate all your specific requirements. Our experienced furniture removalists are always on their toes to achieve perfection in everything they do.
We know that choosing a removal company in Brisbane when moving interstate isn't an easy job as the job of the relocation itself. It is understandable to have trouble developing trust when hiring a company. But we assure you that we are honest and transparent in our communication and we will let you know the total cost of the relocation before we start with the work. Our interstate removalists in Brisbane will keep you informed every step of the way and make sure that you are completely satisfied with our service.
Why Choose Us As Your Interstate Removals Company?
When you hire us, CBD Movers Brisbane, for your interstate move, you will enjoy the following advantages:
Secure transportation with tracking features
Secured storage facilities across all major cities in Australia
Affordable relocation service with value for money
Customizable services according to the budget and the requirements
Obligation-free consultation over the telephone
Experienced and skilled removalists with an ocean of practical knowledge
There are times when we need to clear our mind from the moving stress and to guide you towards a smooth relocation, we have published some articles based on our interstate moving challenges and various client experiences. Check some of the blogs like: