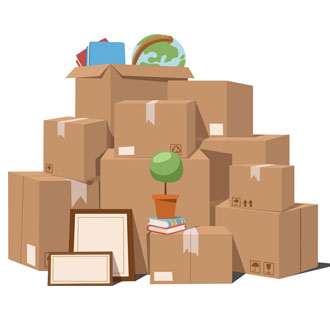 Many prefer to live in an apartment comes as it comes with a lot of benefits like less maintenance, easy accessibility, and less responsibility. As easy and comfortable as all these sounds, moving into an apartment comes with its own share of issues. If you have awareness of all these issues beforehand, then your move to your new apartment will go without a hitch.
Here are the four common mistakes that people generally make or factors they overlook while moving to a new apartment.
Taking everything to your new place
If you think pack everything you own to your new home is a good idea, then it is time to think about it twice. You may have a lot of things that take up a lot of unwanted space in your home and taking all that junk to your new home is only going to make you work twice extra and increase the number of boxes you have to carry. The smart way is to go through all the things you have and pack only those that you can see yourself using in the near future.
Leave out all those remaining things from taking to your new apartment. You can always give those things out for charity or sell it in online websites if they are of good condition.
Surprise the apartment manager on your moving day
Some think that just because you have already rented out the apartment means you can move in any day or any time you want. But that's not the case always.
Some apartments have certain rules and regulations about moving in as it may cause a lot of disturbance to the other tenants. Therefore, before finalizing your moving day and time and informing your removalists about it, check in with the apartment manager first.
Not considering the doorway size for moving the furniture
Even the biggest apartments have the smallest doorways and sometimes, we don't properly register the size of the doorway when visiting a new apartment. It is possible that the doorway to your apartment might be smaller than the size of your furniture which can cause huge issues while moving in.
It is always best to have a look at the apartment and take accurate measurements of the height and width of the entrance. Also, check if your apartment has an elevator and if the furniture can fit into it. If not, then you will have to consider the sizes for the net possibility – the staircase. Take measurements of the staircase and specifically at the corners to see if the furniture can be carried around comfortably.
Delaying in hiring the removalists
Hiring the removalists is an important process in your relocation. A good removal company can save you from a lot of headache and mishaps that happen during a move. Many put off searching and hiring proper removal services till the last minute that they generally have no time left to properly enquire and research about the removalists. Else, even if they did do the complete research, they wouldn't be able to get quality removalists for their move as most of the experienced removalists will be booked earlier.
Just make sure you never compromise on hiring movers.
Especially when you are planning to move on a holiday or a weekend, it is important to finalize the removalists and as soon as possible. Before informing the removalists about the date, make sure that you have spoken with the apartment manager, got all your leaves sanctioned from your office and most of all, ensure that you will be ready with all the packed items.
If your apartment is on a higher floor, then make sure to let the removalists know about that. If your apartment doesn't have an elevator, you will also need to let them about it. The house removals experts will come in ready with all the proper equipment for the move if you let them know in advance.
CBD Movers Brisbane can help you move into an apartment comfortably without any stress. We work on all holidays and weekends and have been in the relocation industry for more than a decade. For a safe relocation, give us a call now!