Moving can be difficult and stressful. The entire process will go more quickly and smoothly if you hire movers in Brisbane, which will also make your life easier in every way. However, a lot of people make mistakes, thus our goal is to assist you in avoiding those errors. The truth is that a lot of individuals hire movers incorrectly, which can lead to additional issues and stress. Therefore, if you want a hassle-free moving experience, you should avoid the following blunders.
The seven most frequent errors consumers make when hiring removalists in Brisbane are listed below. Thinking about the things we've outlined could help you make the best choice and spare you future time, money, and headaches.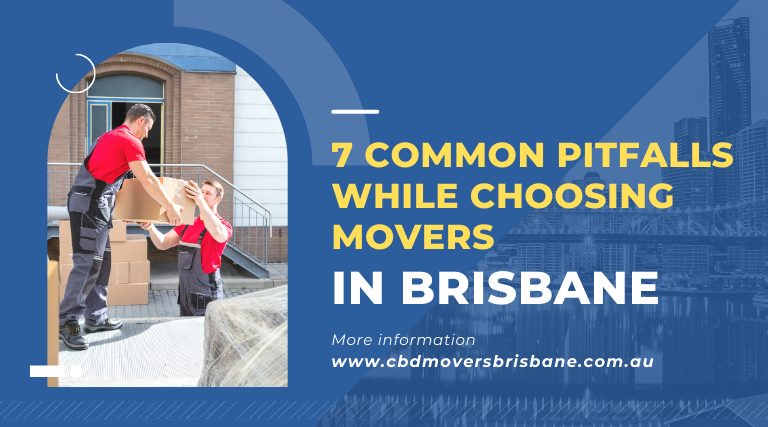 1. Choosing the Cheapest House Movers in Brisbane
Moving involves a lot of costs, therefore it's a good idea to monitor your spending. It's a good idea to compare prices by getting many quotations for your move.
Choosing the deal with the lowest price isn't always to your best advantage, though. Extremely low costs should be avoided because they frequently point to a shady company.
Even some so-called "rogue" movers start with a ridiculously low estimate. On the day of the move, they raise the fee by hundreds or even thousands of dollars and threaten to sell your goods at auction if you don't pay.
2. Not doing any research on potential furniture removals in Brisbane
Nothing compares to a recommendation from a friend. Ask your friends and family if they have experience with any movers they would recommend. Asking on social media will almost certainly result in some recommendations.
When you have a few leads, check to determine if the company is a registered member of the National Association. Membership of the association signifies that a company has been screened by local Better Business Bureau, and state, and federal regulations.
3. Failing to do a home survey
A house survey is necessary if you want a precise estimate of the cost to relocate your possessions from one location to another. Any reputable movers in Brisbane will demand that you complete a virtual survey or an in-home survey.
The size and types of furniture, the size and occupancy of the rooms you currently have, and the inside of your cabinets and closets are all things the movers will examine during a house study.
Specialty things or expensive items (these may need special movers and valuation for coverage)
Consider it a warning sign if a moving company is willing to provide you with a price over the phone without seeing your belongings. This relates to lowball offerings that look unrealistic.
4. Ignoring the dangers of moving brokers
A broker serves as a middleman between buyers and sellers.
Moving brokers are in fact sales teams who arrange your move before offering it to moving businesses for purchase. Additionally, some of them are true.
Others, though, function more like The Big Short. They simply want to complete the transaction, receive their deposit, and move on to the following sale. They don't care how nicely your relocation goes. You could not have a mover on moving day if your moving broker is unable to find a buyer for your relocation.
You can mistakenly believe that you are seeing web pages for moving companies if you search for removalists in Brisbane online. Ask if you are speaking to a real moving company to be safe.
A moving company with a physical location is more likely to be interested in making your move a pleasant one. Every action puts their reputations at risk. They desire satisfied clients who would tell their friends and relatives about them.
5. Failing to inform your house movers in Brisbane of your needs
The life of a mover can become one extremely long to-do list. Once you've chosen a moving company, try to communicate with them frequently. Be clear about everything that needs to be relocated as well as all the dates included in your moving timetable.
For instance, if you're moving large appliances like refrigerators, washers/dryers, and other appliances, you should inform professional movers of the closing dates of the houses at both ends of the move.
The movers' potential access problems, such as parking, elevator schedules, etc.
Special objects like artwork, mattresses from Sleep Number, pool tables, etc. need unique packaging.
Any further odd events that might impact your move.
6. Failing to Understand How Your Property Is Safe
Different levels of protection for lost or damaged belongings are provided by furniture removals in Brisbane. It's referred to as valuation and is comparable to insurance. The valuation that a moving company should provide you with falls into two categories.
Full valuation is the preferable choice, and movers ought to provide it as the standard choice. Any items that are harmed, lost, or destroyed are fully compensated. Full valuation denotes that the business will pay for any necessary repairs or replacements.
The only refund offered under Released Value Protection is.60 cents per pound. Consider what would happen if a $500 dining table sustained irreparable damage. You will only be compensated $30 if it weighs 50 pounds, which is insufficient to purchase a new one.
Be aware that some less reputable movers in Brisbane base their quotes on this level of assessment. Another justification for being sceptical of really cheap offers.
One thing to keep in mind is that depending on whether products are packed by the removalists in Brisbane or by the consumers, the protection you receive from valuation can differ. Most of the time, a moving company will cover anything that its employees pack and move in full.
Finally, on moving day, avoid signing anything that would affect your ability to file a claim for damages. After the delivery date, you have up to nine months to file a claim.
7. Not Observing Moving is busiest during the summer
Compared to other periods of the year, people move more during the summer. Families' schedule moves around the school year, houses go on the market when the weather is nicer, and college students commute to and from campus in the summer.
What does all of it mean to you? You must prepare in advance if your move falls during the summer months.
Early on, begin your research on house movers in Brisbane. Even if you are unsure of your precise moving dates, pick the moving company of your choice and inform them of your anticipated dates. When things start to fill up, they can inform you so that you can make a decision. All available movers may be booked if you wait until the last minute to call them.