Although thrilling, moving may also be mentally exhausting because one must go through every step of the process. In this blog, we will go through each of the benefits and drawbacks of moving alone versus using movers in Brisbane so that you have all the knowledge you need to make an informed choice.
The removalists in Brisbane have done the hard work and given you all the information you require to choose the best moving option.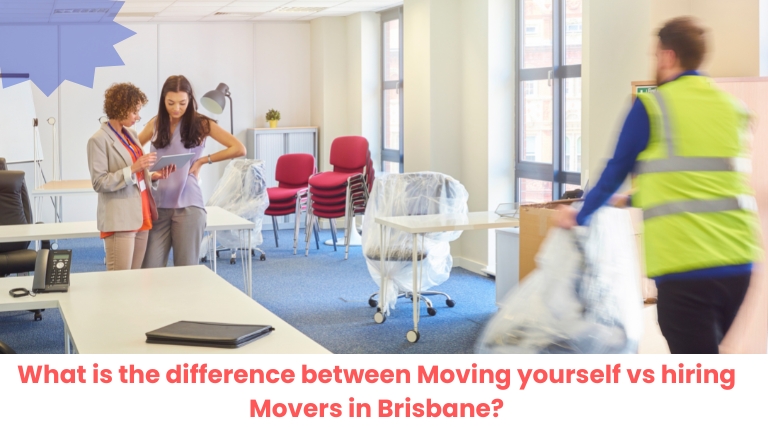 Pros of Moving yourself
1. You are in complete control of your actions
The biggest benefit of moving yourself is that you have total control over the entire process. You get to pick up the truck and all of your moving goods, and you can handle all of the moving boxes by yourself to prevent any damage from occurring. When you commit to a DIY move, you have the freedom to choose when to start and when to finish the move.
You can choose how to preserve your possessions the best if you're relocating during suitable weather. Additionally, you have control over how the truck is loaded and won't have to worry about house movers in Brisbane placing furniture and boxes in the wrong rooms.
2. Financial savings
A DIY move is probably the way to go if money is limited. The costs associated with hiring furniture removals in Brisbane can quickly mount up and exceed expectations, even if you're simply moving next door. However, you might save thousands of dollars if you hire a moving truck. For instance, the largest moving truck choice (26 feet) can accommodate homes with four or more bedrooms, and rental rates start at $40. You can pay extra to add accessories and loading materials when choosing your own truck.
3. Pack as you choose
In keeping with the previous pro, packing your possessions neatly isn't necessary while preparing for a DIY relocation. When the movers in Brisbane arrive, they'll want all of your boxes sealed and prepared. However, if you move, you won't have to pack oddly shaped items like lights and plants. Simple pillows and blankets are not among the items you will need to worry about packing. As long as everything is in the truck on moving day, you're fine to go. You can pack as little or as much as you like.
Cons of Moving Yourself
1. Carrying out the bulk of the work
The fact that you'll have to move everything yourself is arguably the worst aspect of a do-it-yourself relocation. That is unless your closest and best friends happen to be the ones assigned to perform that function. Even so, moving all of those heavy boxes and oversized furniture won't be simple, especially if there are stairs involved. Lifting couches and beds downstairs could mark or harm the walls if you or your friends are unprofessional movers. Without help, moving into a one-bedroom apartment may be simple enough, but a five-bedroom apartment might just give you worries.
2. Requires extensive planning
Don't get us wrong; planning is equally necessary before hiring removalists in Brisbane. However, arranging a whole move by yourself will take A LOT of time. You'll need to plan the logistics of transporting your belongings from point A to point B. Planning out the best approach to load the hired moving truck, including which items go in first and last and how they are placed within the truck, is also necessary.
3. Unexpected issues develop
You can be in trouble if something unforeseen occurs, like your couch being trapped in the door. Without the aid of experienced house movers in Brisbane and specific moving equipment, you can find yourself spending hours trying to remedy the problem rather than unwinding on that couch in your new house.
Pros of hiring movers
1. You won't need to move a muscle
Leave the labour-intensive lifting to the experts. These skilled furniture removals in Brisbane were employed for a reason, after all. You won't have to worry about lifting and dragging your bulky furniture down the stairs and out the door if you hire a reliable moving company. Additionally, you won't have to stress about sore muscles, scuffing up brand-new flooring, or asking pals to assist with the lifting. Instead, concentrate on taking care of your kids, your pet, and other critical responsibilities. Or you could simply unwind by sitting back.
2. The action will be effective
Expect your movers in Brisbane to be dependable if you've picked a reputable and knowledgeable moving company. The moving firm is obligated to help with all agreed-upon components of the relocation, unlike friends who may flake. The moving company should show up on schedule with the necessary materials and tools, sparing you the unpleasant work of assembling dollies and furniture cushions at the last minute. In the long run, using a reliable moving company can help customers cut down on their moving time.
3. Overall less stress
Generally speaking, hiring removalists in Brisbane relieves you of a lot of the typical moving-day stresses. Hiring assistance will spare you from driving a huge moving truck down the highway in addition to the time-saving advantages of using a moving company. Driving moving vehicles is very difficult and demanding. Not much easier are trailers either. We strongly advise hiring movers if the thought of driving and loading a big moving truck makes you nervous.
Cons of hiring movers
1. Lack of adaptability
You lose some control over the relocation when you employ professional house movers in Brisbane. It isn't much you can do to alter when and how you move, from the time and date of pickup to how the movers pack your belongings. In the worst situation, if the moving company makes several stops along the route, you might have to wait weeks for your moving truck to show up. Those who prefer to be in total control might not find that hiring a moving company is the best course of action.
2. The price is high
The cost of a local move normally runs from $875 to $2,350, according to a local surveyor. The cost estimate could include a fixed price, an hourly rate, or both. Local movers often charge between $25 and $50 per hour per employee. Even a vehicle and a furniture dolly might be included. A four-bedroom home can be moved for up to $1,200 if you hire movers. Moving out of state can cost anything from $2,200 and $5,700, mostly due to distance and weight. That's a lot of money! Therefore, hiring a moving company will still cost you a lot even if your move is just across the street.
3. It might be cold
Most likely, you have never met furniture removals in Brisbane. It can be a little unsettling to give strangers access to your priceless possessions. Because of this, it's crucial to conduct your research, read reviews, and look at ratings before hiring a moving company to assist you with your relocation. To avoid moving scams and ripoffs, we advise using licenced and insured movers. Before providing you with a moving price, ensure sure the moving company inspects your house in person or by video.