Moving house is already one of the most complicated and stressful things to do. If you choose to do it on your own without anybody's help, it can become even more demanding and tiring. You become more prone to making costly mistakes. If you have not chosen any removalists in Brisbane yet, it will be in your best interest to read through this blog till the end. You might be able to avoid some of the most common and annoying errors that can leave a big hole in your finances. Let's start: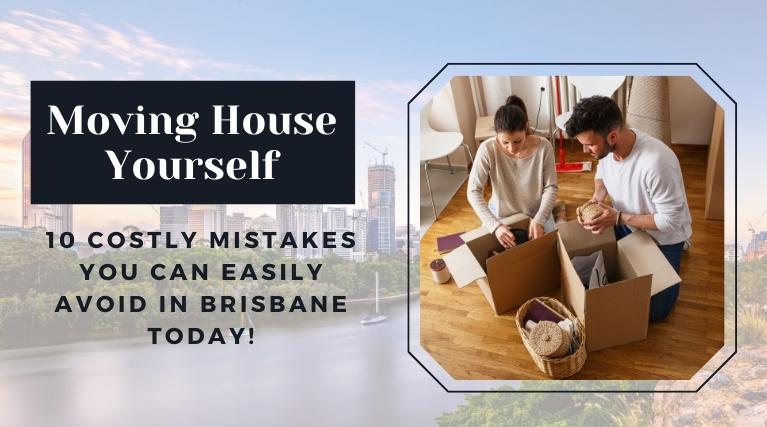 1. You Think That Every Mover Is Trying To Cheat You
This can make you a lot more sceptical than you already are. You should not think the worst about everyone. Thinking that every house moving services provider in Brisbane is out there to cheat on you is not a good attitude. Given that you have had an experience in the past or perhaps you have been listening to a lot of stories from your neighbours and friends, it still doesn't mean that the packers and movers you hire are going to cheat you of your money.
2. Not Disclosing All Move-Related Information
Have you forgotten to disclose every little detail about your move to the house removal company? This is not a good approach. You need to disclose everything about the amount of cargo you have and the miles you wish to travel. If there are a few stoppages that you need to make, you must inform the packing and moving company about that as well. If you fail to do that, you might have to pay extra charges when the trip concludes.
3. Handing Over The Valuables To Removalists In Brisbane
What are you thinking? You are not supposed to hand over your expensive items or jewellery pieces to the moving professionals. They might be efficient in what they do and they are responsible as well but your valuables are your responsibility. These are some of the most expensive things we are talking about. Several of these items are irreplaceable. Make sure to carry a separate moving box for these expensive items in addition to your important documents and papers as well.
4. Forgetting To Discontinue Your Utilities
This is a mistake that a lot of homeowners make. If you are in the process of packing, moving furniture pieces, emptying your rooms, and hiring a man with a van in Brisbane, you tend to forget several things. Discontinuing your utilities can easily be one of them. You do not wish to pay double the amount for your utilities which is very commonly noticed among families and homeowners throughout the city. They forget to discontinue water supply, gas, cable connection, electricity, internet, and entertainment subscriptions at their old home and start the same in their new property. This is one of the costliest mistakes you can ever make.
5. You Think That Moving In The Peak Season Is Alright
Moving in the peak season is never going to pan out well for you. First of all, even the smallest and the never-heard-of house removals in Brisbane will also be busy during this time of the year. Locating even the most basic moving services in the city will become challenging for you. Even if you do secure a professional, the costs are going to be exponentially high. It is never advised to move intercity or outside the city during the peak season.
6. Delaying The Entire Packing Process
Some homeowners think that packing their belongings at the last moment is also possible. They choose to delay the process which puts them in a very tough situation. If you do not plan your packing at least two or three months before the moving date, you are highly likely to face several challenges. You might not be able to find the right packing supplies and moving boxes at the last moment. You may have to go for some of the most expensive house removals in Brisbane in the end. Some families also underestimate the amount of time that it takes to pack all of their belongings. In the end, they are left with only a few hours to pack a major portion of their cargo.
7. Starting But Not Organising First
When you start packing and moving without being organised in your approach, things are going to get out of hand. You cannot just pack boxes randomly without first choosing which room you want to pack and settle. Also, packing without first investing in the right moving boxes and containers is never a good idea. You need to consider the amount of time that you have on your hand as well. If you have decided upon a moving date, you will have to divide all your tasks among your family members and everyone in your house so that all of them can be coordinated. You do not want any last-minute packing or moving to ruin your timeline at all.
8. Prioritising Cost Over Value
Let's say that you have decided to go with a house removals company in Brisbane. Are you going to prioritise cost over value? Do you think that the pricing of the removalists in the city is more important to you than the quality of service they deliver? Remember, this is a highly price-sensitive decision but you cannot base it only on this one aspect. You will have to consider a lot of aspects such as their reviews, client opinions, and market standing. Other than this, also make sure that they are reliable, offer comprehensive services, professional in their attitude, responsible, responsive, and easily reachable.
9. Too Much Or Too Little Time To Pack
Remember, if you have too much time to pack or too little of it, you are never going to be able to make it within your pre-determined timeline. You will either get too lazy or too worked up. This never pans out well for you. You will either end up packing your necessary items 3 or 5 days too early or perhaps will miss out on a few things till the last day. This is why it is important to decide and choose tasks for every day and for everyone in your family.
10. Forgetting To Label Your Boxes
Whether you have hired moving services in Brisbane or chosen to do all of it on your own, you should never forget to label your moving boxes. It is a very important step that you must perform as you go forward packing every box corresponding to every room. Make sure to label them clearly and also mention the contents of the box if possible. Do mention which direction goes up and which room the box belongs to with a permanent marker.
Conclusion
A few more points that you must keep in mind is that you should not forget to enquire about the insurance coverage that the man with van in Brisbane offers. Make sure that the professional removalist you pick keeps you in the loop and stays in touch with you throughout the move. In addition to that, never forget to pack a moving essentials bag. All of these tips are going to make it easier for you to transition from your old home to your new house. Just make sure to go through it once more if you feel that you might be forgetting something.