Many of us love having potted plants and taking good care of them. You may have spent months or years together watering and nurturing your potted plants that you don't have the heart to leave it back. So don't leave it back! By following some moving tips and tricks to transport the potted plants along with your other relocation things during house removals, you can now take your dear potted plants to your new place too!
Tips to Get Your Potted Plants Ready for Relocation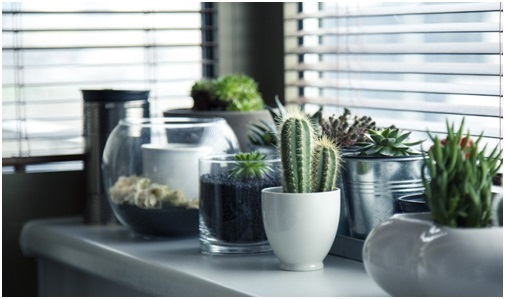 One has to keep in mind that that potted plants can take up a considerable amount of space, unlike the other boxed things you have. Since they have to keep on the floor, you can't stack up to the plants on top of each other like the boxes.
Wet soil is heavier than dry soil; therefore, don't water your plants on the day of the move. If you have potted plants that need a lot of water, then place some papers dipped in water at the top of the soil to keep the plant hydrated and not let the water evaporate easily.
If you have pots that are too heavy, change it for some temporary lightweight pots. You can always go to your new place and get a nice pot for your plant but it isn't necessary to carry around the heavy and big pots.
If your plants are big branches all around, it is safe to prune it; else there are possibilities of it getting caught on the way of transportation which could lead to the breaking of the plant. Also, once you have pruned the plant, put some big netted cover over the plants so that its leaves or branches don't hinder.
If your truck is cramped up for space and the potted plants are taking a good portion of it, place the potted plants in boxes and stack the boxes on top of each other. Make holes on the sides of the boxes to let the plant get the air it needs.
If you are moving interstate, then check for the restrictions about the plants that are allowed and plants which you can't possibly take to the other state.
Before you get your potted plants ready for relocation, check once with the removalists if they are okay with transporting the plants. Sometimes, if the relocation takes more than two or three days, then most potted plants cannot sustain without water or sunlight. So it would be upon the removalists to pour water to it. So, ensure that the removalists, as well as your potted plants, are up for the move.
If your pots have cracks on them, then get a new pot for the transportation. If there are any disturbances during the transportation, your pot may crack open and could lead to the death of your plant if left unwatched. Hence ensure that the pots are sturdy.
If you have any pricey artwork transported, keep it as far away from these potted plants as possible. Artworks can be damaged with the slightest hint of moisture and these pots are a good source of it. If the packing has even a tiny little pin gap, moisture can enter the packing. So, to protect your artwork, it is best to keep it far away as possible.
Before you move the potted plants, check if there are any germs or insects in the soil. If there are, then these insects could get inside the other nearby boxes and damage your personal things.
If you need any help moving your potted plants, contact CBD Movers to get your plants transported safely. Our Brisbane removalist have prior experience in handling the transportation of potted plants and you will be assured that your plants are in safe hands.
If you are planning to move, then do check these informative blogs on moving :