Brisbane has been attracting the masses due to its colourful and diversified environment. You will find people from all walks of life here. Apart from the mesmerising beaches, it has various other places to treat your eyes and soul. This serves as a major reason for the increasing demand for removals in Brisbane.
Another alarming demand that has been raised with the growing mobility of Brisbane is the demand for storage units. As most of the moves are conducted interstate, people look for removals in Brisbane offering storage.
One of the major reasons people choose the storage facility is because of the trend of nuclear families setting in. People prefer downsizing and, thus, they prefer storing their goods in storage units. Another critical factor is to perform a thorough move-in cleaning.
Thus, moving companies have started providing this service, adhering to the demand for moving and storage in Brisbane. People no longer prefer to keep the extra stuff in their basements as it requires high maintenance and security.
To help you take your decision easily, regarding whether to take a storage facility or not, here are some pros and cons: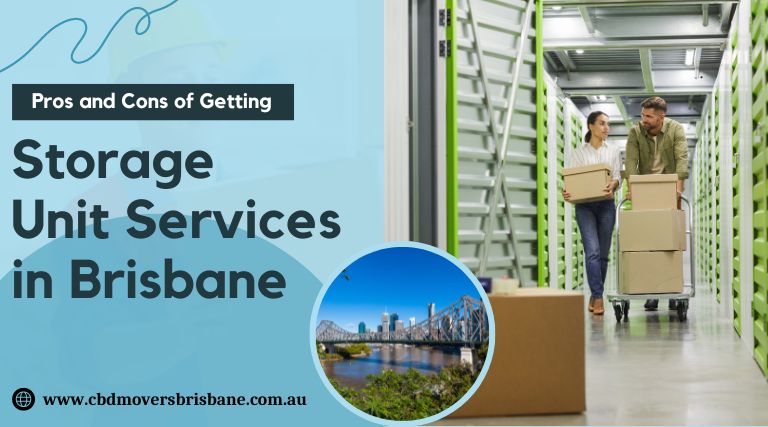 Let's have a look at the pros first:
Available 24 hours a day
Many removalists in Brisbane provide storage facilities with 24-hour access. But some companies will provide access during working hours only for security reasons. You can choose the company that provides you with the key to access your goods at any time. It will help you get access to your goods in a pinch.
Variety of size options
You will not have to struggle with finding the right size of containers for your belongings. Professional storage units will have all the arrangements, like the right size, the right temperature, etc. You will have a wide variety of size options, from the smallest closet to a big enough size to keep all the stuff of your 7-bedroom house.
A fantastic solution for the in-between times
There are times when you have to conduct a proficient cleaning of the place you are shifting to. And a proper cleaning can only be conducted if you attempt it in an empty house without furniture. But if you plan to keep the goods in your previous house, it may hinder your move-out cleaning. In such a situation, you can choose to keep your valuables in a storage unit for this in-between time. You can pay the rent for the time period for which you are renting the storage unit.
Protection from pests
If we choose to keep the goods in our basement, then we cannot ensure their safety from pests. We do not know what the right chemicals are, and without proper knowledge, we cannot use those chemicals either. Also, in our homes, we can only use harmless and light chemicals, which may not be that effective. Professionals, on the other hand, can handle pests with appropriate knowledge and provide 100% pest protection. The chemicals used for pest control will also be chosen as per the nature of the goods stored.
Loss recovery
Many removals in Brisbane, provide storage facilities with insurance plans. You can choose the policy that suits you. This way, if in any case, either due to natural calamity or any other issue, your stored goods get damaged, then you will get the damage recovery cost either partially or fully depending upon the plan. If you store it at home, you will have to invest space, time, and effort in maintaining it, as well as in loss recovery.
Security service
There are 24/7 guards and CCTV cameras to guard your essentials. They make sure that your goods are safe and secure. whereas you may not get such a high level of security at home. You will find it difficult to plan any family vacation too. It is so because who will guard the goods behind you? Hiring a security guard or finding a storage unit on the spot will cause you a great deal of stress, so it is preferable to find the right storage unit with easy access.
Less stress
Once you find the right place for your goods, you know that you will not have to guard your goods all the time. You can also conduct proficient house cleaning. And you do not even have to discard your valuables while downsizing. Thus, you will not have to worry about your goods anymore, and the reasons causing you stress will automatically become null.
Free and discounted amenities
Many removals in Brisbane provide storage facility also. If you hire a moving company that also provides storage facilities, then you can enjoy the concession of getting both services in one place. They don't need to advertise such exclusive offers, so you can call and inquire about their offers.
The cons of renting a storage unit
The items are difficult to locate
It was always difficult to find our favourite book in the library until it was organised author-wise or the digital system was adopted by librarians. Similarly, it becomes difficult to locate your goods in a storage unit. But that is usually the case with a "self" storage unit. If you rent a good storage unit, it will help you with an inventory system.
You may not be able to store everything
You cannot store everything in a storage unit. It may include harmful items like perishables, unregistered vehicles, weapons, live plants, or animals. Also, there are some things that you actually should not keep in storage units. It can be some confidential things, expensive antiques, things you need to find easily, or important professional or personal documents.
Security can be an issue
If you choose the wrong company, then there are chances that their employees have not undergone any background checks or proper security training. Many times, people have reported cases of thefts caused by inside jobs. It is not even necessary that there be 24/7 video surveillance. Thus, security can be an issue.
But it can be an issue even if you have a self-storage unit. So, you cannot ignore all the good points just because of some partially bad points. You can easily avoid these cons by choosing the right storage unit. While you are searching for interstate removals in Brisbane, look for some particular factors like:
Experience of the company
Do they offer storage units?
Are the employees trained?
Do they have proper security arrangements?
Goodwill of the company
In comparison to various quotes from various organisations
Affordability
Yes, you will indeed have to pay regular rent on the storage unit. Some companies may even charge you a lot for the same You can still choose an affordable option by consolidating the moving and storage facilities into one place. But then again, if you get all the security and the damage repair cost, then the cost you will have to pay is worth it.
So, these were some of the pros and cons of renting a storage unit. I hope you have seen both sides of the coin very closely now. And you are all set to make a rational decision now.