Moving in Brisbane and confused about what services you need? Well, the better way to approach this is to understand what kind of services are generally offered by removalists here. This is why we are here today – diving deep into the wide range of services offered by moving companies.
Knowing what you can and cannot do with removalists makes all the difference in the world. It helps you prepare better for your next move. It also allows you to understand the final costs of moving. All in all, a well-researched customer can get better deals and move more efficiently.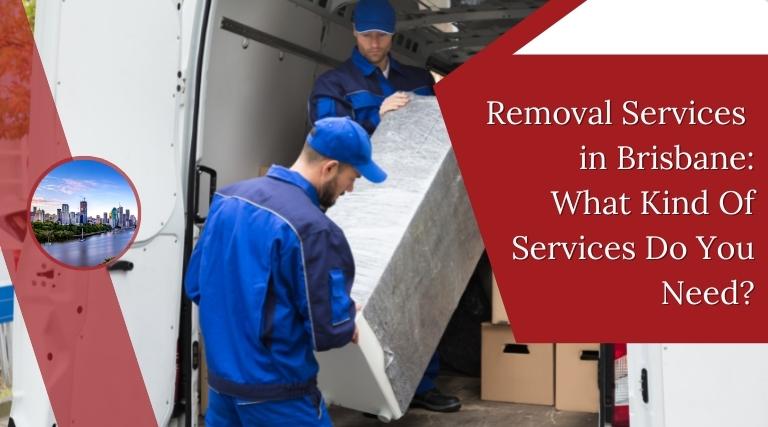 House Removals in Brisbane
The major offering provided by moving companies in Brisbane is house removals. As the name suggests, these include all the services that can help you move houses. Good moving companies have the infrastructure to relocate houses of different sizes. They also have specialised equipment in order to move everything safely and quickly.
Your house removals are as good as the removalists you hire. Therefore, it makes sense to get experienced and affordable moving companies to do the job for you. You should be able to place your trust in them – ensure that everything will be moved safely!
When it comes to house removals, there are certain services that fall under this category. Let's discuss some of these removal services that you can get when moving in Brisbane.
Furniture Removals in Brisbane
Furniture removals form an integral part of the house removal process. It basically means that the moving company will move your furniture – whatever kind – safely and efficiently to the new house. Furniture removals are worth mentioning separately because they include special skills and equipment.
Moving companies can help move furniture of different kinds using special equipment. For example, they might employ dollies to move cabinets and study tables. For heavier pieces of furniture such as a king's sized bed or an almirah, they might use ropes and levers to pull the job through. They also have the tools to disassemble these heavy pieces and move them separately.
Packing supplies used to move furniture are also different from moving other kinds of stuff such as appliances or books. Apart from the regular plastic sheets, bubble wrap and specialised furniture covers are also used. Moving companies tie large almirahs and cupboards with ropes so that the doors don't open in transit or while unloading.
Finally, furniture requires the most space in the moving van. If you have lots of furniture, you might need larger trucks and better loading equipment. Ramps and sliders are used to safely load and unload large pieces of furniture.
Two Men and a Truck
If you are moving in Brisbane or anywhere in Australia, this service is the most common one that you will encounter. As the name suggests, this service simply employs two men and a truck to do the job. It is ideal for small houses that can be relocated easily using a single moving truck. If more than one trip is required, this service can only be used for short distances.
The two men and a truck service forms the basis of all removal services. If you think about it, each version of the offerings are expanded forms of this service. It is the cheapest removal service that you can get. Hourly rates are levied on most removal services and the two men and a truck is no exception.
Interstate House Removals
Long-distance moves or interstate removals are more complex and require more resources to complete. Therefore, if you are moving to another city far away from Brisbane, you will require removalists who are capable of interstate removals. Interstate removalists should have a solid infrastructure and a trained staff to complete the removal efficiently.
It is crucial to understand what your requirements are before you hire an interstate removalist. The moving company will send a cost estimate. Ensure that you do your research well before you take the final call. Interstate removals should be properly planned and then executed. You will need the best help that you can before you embark on an interstate move.
Packing and Unpacking Services
Most removal services include packing and unpacking jobs by default. The cost includes the packing and unpacking efforts as well. However, there may be situations when you might need this service separately. For instance, if you already have a pickup truck and friends helping you out, packing and unpacking services might be availed separately.
Finally, if you are planning to pack and move on your own, you can get packing supplies from moving companies.
Office Removals in Brisbane
Moving offices in Brisbane or anywhere in Australia is more complicated than your regular house move. The amount of work is generally more and since there is a lot of IT infrastructure involved, you will require trained and skilled movers.
Office removals in Australia are a little more expensive than house removals for the aforementioned reason. Let's dive deeper into the different services that you can get when moving offices.
Office Furniture Removals
Office furniture generally consists of chairs, desks, and lots of cabinets and storage spaces. In order to move them safely, office removal companies use proper equipment and skilled labour to help you through the move. Office workspaces are also sometimes divided into cubicles and partitions. These can be disassembled and moved as well.
Two Men and a Truck Service for Offices
For very small offices, you can get the same service as we discussed under the house removals sections. If you work out of a small rented office space you can easily move through this channel. The two men and a truck service is one of the most versatile service options available in the removals industry.
IT Infrastructure Relocation and Reinstallation
Offices in general are filled with computers and internal telecom systems that ensure proper internal and external communications. Moving companies offer services that help their customers move these systems and get them reinstalled in the new office space. This service is not offered by all moving companies so ensure that you clarify this point beforehand. You might need to get an IT technician separately to reinstall your infra after the removal is done.
Interstate Office Removals
Finally, we come to interstate office removals. Think of this as your regular office move – just more complex and executed over a longer distance. It requires more resources, skills, as well as time. Only the best moving companies should be trusted to move offices over long distances.