Organizing is often a confusing task when you rent a storage unit. Yes, we can totally understand the question of where to begin! This overwhelming scenario can be fixed with a composed mind and professional assistance. If you are moving to Brisbane, then you might need to start looking for storage units available in the region beforehand. Although there are many companies that provide Brisbane moving and storage facilitation but finding the most reliable one takes time. In this world of self-claimed service providers, we CBD Movers let our previous customer reviews speak on our behalf. Understand the benefits of storage units before you jump directly to understand how you can store your stuff in them. This will help you to organize the space more efficiently and in a planned manner.
Get Enlighten About Brisbane Removals and Storage
Whether you are running out of space at your current place, renovation is going on, or you are in the moving process, the role of storage units is a must. These units are perfect to keep your belongings safe until you can settle into your new space. The expert House removalists in Brisbane find storing the goods at storage units pretty helpful while they pack other stuff for the move. This kind of separates the already packed items from the unpacked ones and makes the entire packing process a lot simpler. These climate-controlled storage facilities can be for personal as well as business use. The best part your items are safe from most kinds of threats, which gives a great sigh of relief to you to concentrate on other important aspects of relocating. However, you must select the appropriate size of Brisbane moving and storage units that store all your stuff aptly.
Recommended Storage Units Organizing Steps by Professional Interstate removals in Brisbane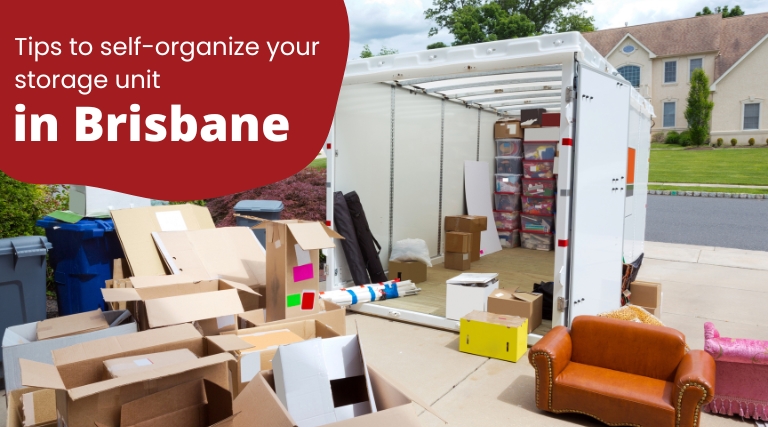 1. Begin by Creating Inventory-
A proper checklist of all the storage requirements will streamline everything in your mind. It is not possible for you to remember everything, which is another reason to write down all the items. You will thank yourself for this list if you store your belongings for a month a more. Clicking pictures of your favourite items is also a great idea to never forget about them later on. The inventory list and associated pictures ought to be saved together to find them feasibly when required. House removalists in Brisbane can only be helpful to move the goods they cannot find them. So, do what you can to have your inventory checklist ready before storing your stuff. A pro tip: You can make a map-like structure on the paper resonating with the order of items organized in the storage units. 
2. Simple Considerations for Efficient Storage-
Most people prefer to use cardboard boxes to store their items. We highly recommend putting your stuff in clear bins instead of cardboard. Undoubtedly, these clear bins might cost you some extra bucks but are surely worth it. These bins are transparent and will display the item inside whereas cardboard boxes are opaque, so you cannot see what is inside. Clear bins make the identifying process easier than the other storage options. Maximizing the minimum space of Brisbane moving and storage units is a major aspect of organizing the goods. This efficiency can be attained by disassembling all the large items and arranging them in order. It is a good idea to store different items in a vertical position to save more space. The sky is the limit to finding ways to organize different items from your household or office, just give it a try. 
3. Find the Ultimate Safe Storage-
Check if Brisbane removals and storage are safe or not. You might be keeping some valuables in the storage unit. So, ensuring the safety of your belongings is mandatory. Other than keeping them safe from external threats, you must pack them properly. The delicate items are more to break and that might make you feel bad. So, in order to save yourself from such a situation you should learn some packing tips from Interstate removals in Brisbane. You can use hard paper, bubble wrap, solid boxes, and so on to preserve your valuables while in the house renovation or moving process. Do not forget to keep those heavy items at the bottom, which may crush your delicate stuff. Also, place the frequently used things in the front to get them whenever required without touching other things arranged in the storage units. Plan an aisle to see everything in order from a distance. 
Once you are done wedging everything in the safe storage, stop fretting and start giving your attention to other important matters. For any queries regarding the storage units, feel free to connect with CBD Movers.